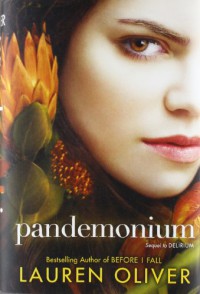 THIS IS A CONCISE REVIEW. READ THE FULL REVIEW
HERE
At first let's talk about the characters. I couldn't get over the fact that Alex is done. I felt like suffering more than Lena! In this book I fell for Lena all the more because of her capability to suffer and fight and ultimately to cope up and transform.
I have read novels where the female or the male lead suffers the loss the loved ones and then they become strong (and healthy!) overnight. Well this always seemed to me a bit non-realistic. In real life, people can never let go of their past, or their loved ones so easily. However, the author seems to understand that very well in this case. Lena's rejuvenation was possible only because Oliver made it possible. From the beginning I see her as the broken person and even before I realize I see her in a completely new light. This, according to me, kind of gives her an epic hero quality.
While on one hand I can't forget Alex :( on the hand I meet some new characters - Raven, Hunter, Tack....and Julian. Gosh I hated him first for being Lena's love interest! But I must say the author knows how to make the readers fall in love with the characters of the book:D
"I wonder if this is how people always get close: They heal each other's wounds; they repair the broken skin."
That's the case with me for Julian I guess lol. He repaired my broken heart after Alex's death :D
The action and the storyline of this second book is as usual awesome. After finishing the book, I was most happy about one thing, I had the third book with me at that moment!! Otherwise I would've gotten a heart attack out of anticipation and tension :p
[b:Pandemonium|9593911|Pandemonium (Delirium, #2)|Lauren Oliver|http://d.gr-assets.com/books/1310371414s/9593911.jpg|14480923] is one of the best sequels I have ever read.